IDEA Webinar: Breast Cancer Screening and Patients with Disabilities
---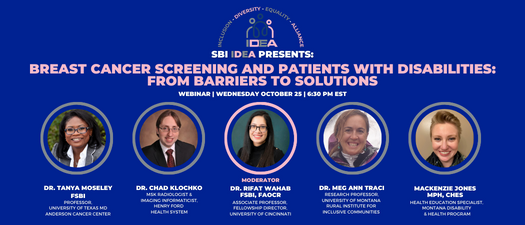 The goal of the webinar series is to improve diversity and inclusion for our members and community. Our first webinar will be focused on patients with disabilities and how we can better serve this patient population. The webinar will discuss disabilities we can see and those we do not, the challenges patients face with disabilities in receiving healthcare overall, understand why patients are hesitant to seek medical care in general and how we can help, how to make breast centers friendly and welcoming for these patients both actively and passively.
IDEA has partnered with Meg Traci and team from the University of Montana Rural Institute: A Center for Excellence in Developmental Disabilities as one of our keynote speakers. This group is nationally recognized as leaders for education, research, and community engagement for people with disabilities.
Dr. Chad Klochko is our second keynote speaker who will be discussing his personal experiences working as a radiologist with disabilities. A brief introduction regarding breast cancer statistics and disparities will be provided by Dr. Tanya Moseley.
The most common reason for this knowledge gap is the lack of awareness. Providers may be unaware of the how to make the breast center welcoming/inclusive, how to make these changes, and even how to manage the breast care needs for these patients. Our activity will raise awareness and touch on key points to get breast centers started in the process of transitioning to a more inclusive environment.
Webinar objectives:
Recognizing disabilities in patients.
Discuss challenges patients with disabilities face when receiving healthcare.
Discuss how to make the breast center an inclusive environment.