Breast Imaging Fellowship Match Program
The Breast Imaging Fellowship Match was established in 2017 to improve the interview and offer process for residents applying to breast imaging fellowship programs. As the sponsoring organization, SBI is pleased again this year to support the 2023 Fellowship Match for 2024 appointments.
SBI wishes to acknowledge the support of the SBI Match Committee in advocating for the Match:
Janine Katzen, MD, Chair; Gary Whitman, MD, FSBI; Katie Hunt, MD, FSBI; Victoria Mango, MD, FSBI; Kathryn Zamora, MD; Lauren Friedlander, MD; Gunjan Senapati, MD; Lilian Wang, MD; Samantha Zuckerman, MD; Deanna Lane, MD; Jonathan Nguyen, MD; Chelsea Pyle, MD.
To Join the Match
Fellowship programs must be accredited or affiliated with an ACGME program (your institution's residency program meets this criterion) and agree to the timeframe established by the National Resident Matching Program. All positions with 6 months or more of breast imaging instruction must be included in the Match.
The Radiology Fellowship Match is managed by the NRMP. To join the Match, please review the Information for New Programs and Register for the Match via the NRMP. All registration questions may be addressed to support@nrmp.org.
Programs participating in the Match for the first time must sign and agree to the terms as set forth by the SBI Memorandum of Understanding. Please email the signed form to info@sbi-online.org. Programs already participating in the Match do not need to submit an MOU each year.
For more information about registering for the Fellowship Match, please contact Natalie Ward at nward@sbi-online.org.
2023 Fellowship Match information
SBI will adhere to the 2023 Match timeline set forth by the Society of Chairs of Academic Radiology Departments. Along with SCARD, SBI encourages programs to hold virtual interviews.
Below are the dates for the 2023 Radiology Fellowship Match for 2024 appointments. Match dates are determined by the NRMP and can also be found here.
August 1, 2022: Programs may accept applications
November 7, 2022: Virtual interview period begins
March 22, 2023: Match opens
March 31, 2023: Last day of interview period
April 19, 2023: Ranking opens
May 31, 2023: Ranking closes
June 14, 2023: Match Day
July 1, 2024 Training begins

SBI Fellowship Match - Universal Application
Applicant Guide to the Fellowship Match
Questions to Ask at a Fellowship Interview
Breast Imaging Fellowship Match Curriculum
Breast Imaging Fellow Evaluation Form
Breast Imaging Fellowship Directory
2023 Fellowship Match Agreement
Benefits of Using a NRMP Match
Match applicants, check out the Applicant Guide to the Fellowship Match, created by the SBI Match Committee and the RFS Committee. This guide was developed in conjunction with the graphic timeline below as well as a comprehensive list of "Questions to Ask at a Fellowship Interview." SBI hopes these resources help applicants navigate every step of the Match process.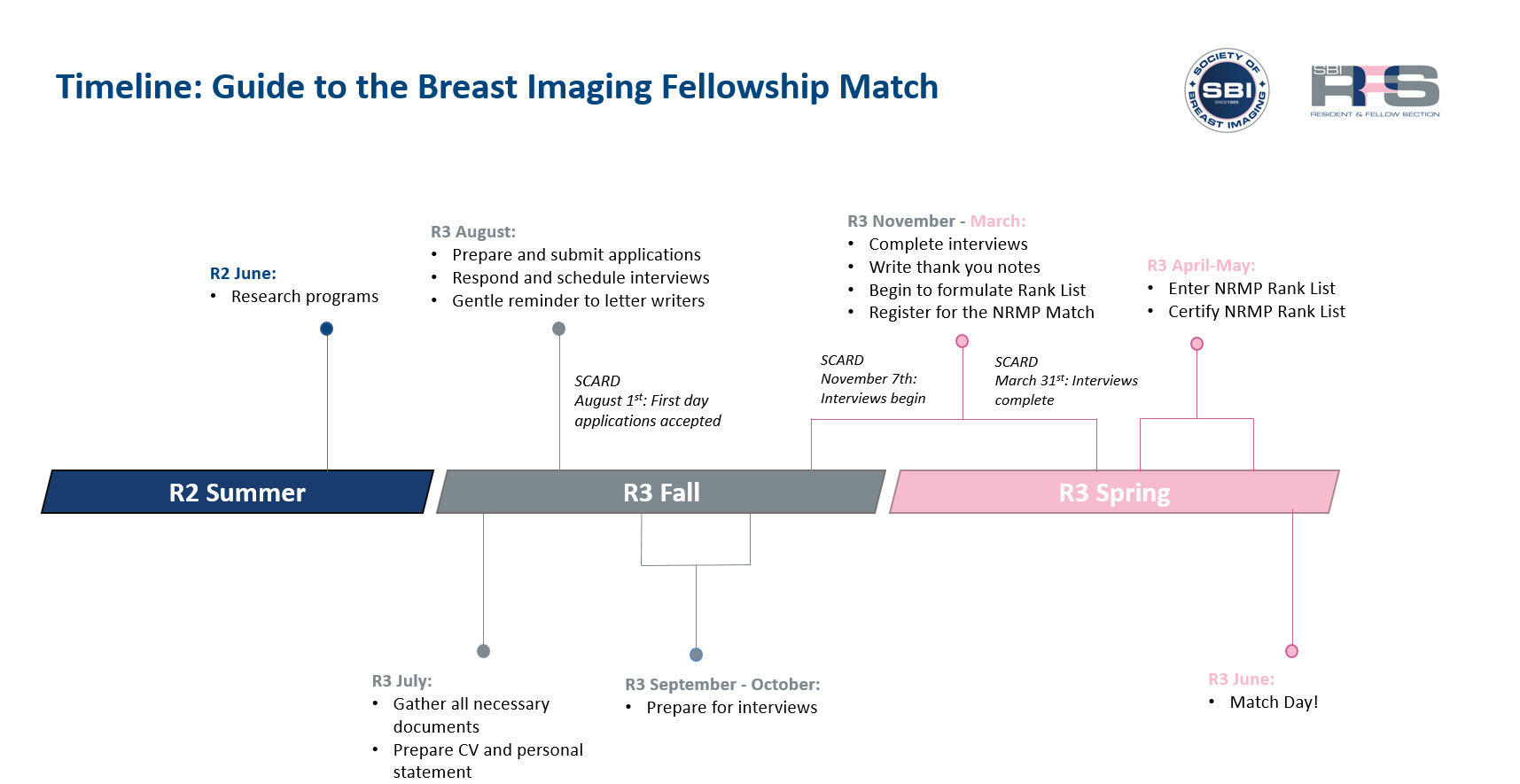 What are the Benefits of the Match?
Provides a fair and transparent process for all
Allows programs to rank the best candidates interested in their institution
Ensures proper time and exposure to breast imaging has occurred prior to fellowship
Eliminates the pressure on applicants to make a decision before completing all interviews
Thank You
SBI would like to acknowledge the following institutions for their support of this important initiative in signing on to the 2023 Match for 2024 appointments:
Allegheny Imaging Institute
Baylor College of Medicine
Baylor University Medical Center
Beaumont Health
Boston University Medical Center
Brigham and Women's Hospital
Brown University, The Warren Alpert Medical School
Cleveland Clinic
Columbia University Medical Center
Denver Health Breast Imaging Fellowship
Eastern Virginia Medical School - Sentara Cancer Center
Emory University
Henry Ford Hospital/Wayne State University
Icahn School of Medicine at Mount Sinai
Indiana University School of Medicine
Jefferson Radiology
Kettering Health Network
Lahey Hospital and Medical Center/Beth Israel Lahey Health
Louisiana State University Health Sciences Center, New Orleans
Mallinckrodt Institute of Radiology at Washington University in St. Louis
Massachusetts General Hospital
Mayo Clinic College of Medicine, Arizona
Mayo Clinic College of Medicine, Florida
Mayo Clinic College of Medicine, Rochester
Medical College of Georgia/Augusta University
Medical College of Wisconsin
Memorial Sloan Kettering Cancer Center
MetroHealth Medical Center
Moffitt Cancer
Montefiore Medical Center
Mount Sinai Medical Center
NYU Grossman School of Medicine
Northwestern University
Ohio State University Hospital
Oregon Health and Science University
Penn State College of Medicine
Roswell Park
Saint Louis University
Scott & White Medical Center (Baylor Scott & White Health)
Stanford Health Care/Stanford University
Stony Brook Medicine Radiology
The MetroHealth System
Thomas Jefferson University Hospital, Sidney Kimmel
University Hospitals Cleveland Medical Center
University of Alabama at Birmingham
University of Arkansas for Medical Sciences
University of California, Davis
University of California, Irvine
University of California, Los Angeles (UCLA), David Geffen Med School
University of California, San Diego
University of California, San Francisco
University of Cincinnati Medical Center
University of Florida College of Medicine, Jacksonville
University of Illinois College of Medicine at Peoria
University of Iowa Hospitals and Clinics
University of Kansas Health System
University of Louisville
University of Massachusetts Chan Medical School
University of Michigan Health
University of Minnesota Medical Center
University of Mississippi Medical Center
University of New Mexico
University of North Carolina at Chapel Hill
University of Oklahoma Health Sciences Center
University of Pennsylvania Hospital
University of Pittsburgh Magee-Womens Hospital (Breast Imaging)
University of Pittsburgh Magee-Womens Hospital (Women's/Breast Imaging)
University of Rochester
University of Texas Health Science Center, San Antonio
University of Texas MD Anderson Cancer Center
University of Utah - Huntsman Cancer Center
University of Washington
University of Wisconsin
University of Virginia Health System
Wake Forest University, Baptist Medical Center
Washington Univ - Mallinckrodt Institute of Radiology (Barnes Jewish)
West Virginia University School of Medicine
Learn More
To learn more about the Society of Breast Imaging Fellowship Match Program, we invite you to review the FAQ and the Benefits of Using an NRMP Match. We have also provided the two informational webinars about the NRMP Match in the videos below.