2023 SBI Breast Imaging Symposium
---
Thursday, May 4, 2023
at
7:45 AM (EDT)
to Sunday, May 7, 2023 at 12:00 PM (EDT)
Category: Annual Symposium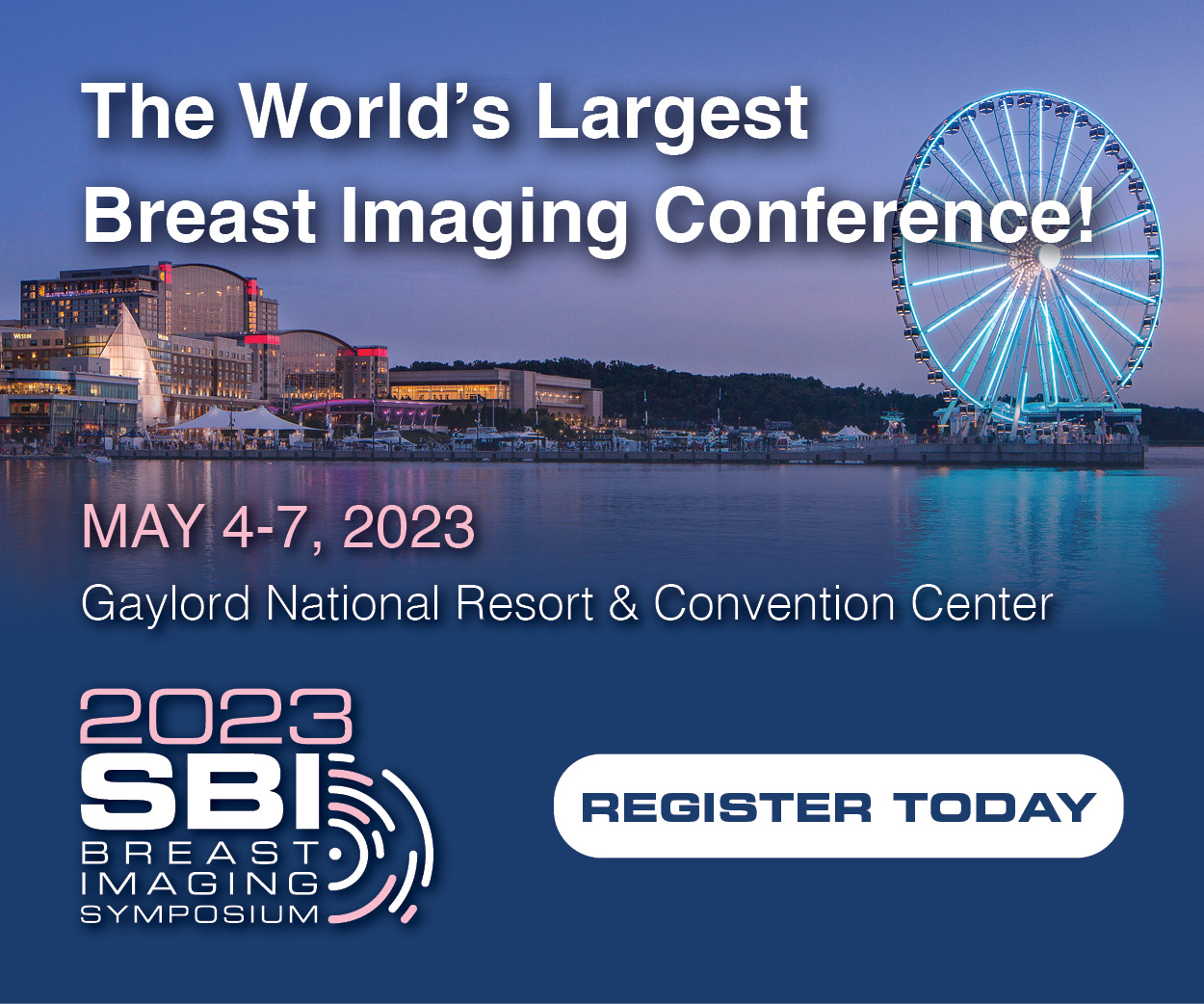 *Note - the meeting is in-person, no virtual option is available.
Please join us for the in-person 2023 SBI Breast Imaging Symposium, taking place May 4-7, 2023, at the Gaylord National Resort & Convention Center in National Harbor, Maryland. With the theme Advancing What's Possible: Better Every Day guiding us, we explore ways to advance the care of our patients (including those who are underserved), enhance our own practices, and boost our careers and self-care.

Make sure to attend our Thursday Shark Tank! where brave contestants will pitch what screening should look like in 2030 to our expert panel of sharks (and vote for your winner).
Our Friday keynote speaker will offer "Insights on the In Situs" and the always compelling Tumor Board will convene.
Saturday morning, we will concentrate on making each of our practices a "Best Practice" with talks on efficiency, emerging practice paradigms and new ways to work.
Sunday brings a lively BI-RADS Next Edition sneak peek (with interactive challenge). And, of course, there will be Jeopardy!
Thursday, Friday and Saturday offer a broad selection of afternoon educational sessions, presented by speakers both seasoned and new. You can "Crack the Case" during several case-based afternoon sessions, get a Primer on AI, undergo basic training at Screening Bootcamp, and gain awareness around malpractice issues.
This year, we will meet in person only. Meeting in person, we hope to harness the energy, networking opportunities and social interaction of our attendees. We are hard-baking new ways to augment social and professional connectivity into this year's conference. Content will be made available on demand at a later date for virtual consumption. We recognize the hybrid meeting last year was very popular, however; the diminished contact with our supporting corporate partners makes continuing this option, unfortunately, untenable.
We look forward to seeing everyone in May 2023, for a wonderful symposium experience!
Health and Safety: SBI is committed to implementing conscious, intentional health and safety operating practices and will work in accordance with guidelines of the Gaylord National Resort & Convention Center, the state of Maryland, and all federal authorities to ensure the safety of all attendees, exhibitors, and staff. We will revise our procedures as needed to reflect the current state of the pandemic, promoting healthy best practices during high- and low-risk time periods alike. SBI will continually update attendees as the health and safety information changes.

Cancellation policy: Gala tickets are non-refundable. Full event registration refunds, less a $150 administrative fee, will be given provided that written notification of cancellation is received before or on April 1, 2023. No refunds will be given for cancellation after this date.

Photography and Filming: Professional photographs, audio, and video will be captured during the Symposium. Attendees hereby grant SBI and its representative's permission to photograph and/or record them at the conference, and distribute (both now and in the future) the attendee's image or voice in photographs, videotapes, electronic reproductions, and audiotapes of such events and activities.

Education credit (CME, CE, CoP): In order to successfully complete the activity, participants must attend the in-person meeting, complete an activity evaluation and claim credit commensurate with their participation in the activity.