Why You Should Join the Society of Breast Imaging
Join the Society of Breast Imaging to be a part of the largest breast imaging society in the world. Membership to SBI is open to board-eligible/certified radiologists, medical physicists, and other medical professionals with an interest in breast imaging.
---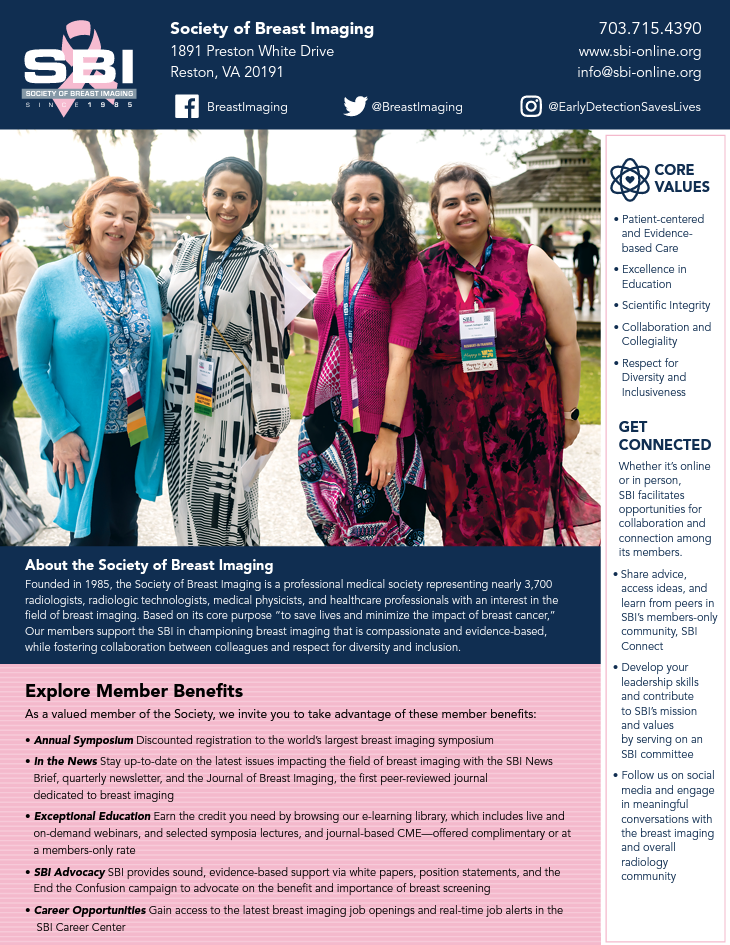 Member Benefits
As a valued member of the Society, we invite you to take advantage of these member benefits:
Discounted registration rates for the annual SBI Breast Imaging Symposium—the world's largest breast imaging conference.
Free access to the Journal of Breast Imaging, the official journal of SBI.
Complimentary access to live and recorded webinars and discounted pricing on education products.
Complimentary Members-In-Training (MIT) membership for early-career radiologists.
Exclusive access to SBI Connect, the Society's members-only online community.
Quarterly newsletter and weekly SBI News Brief, which features the most up-to-date information impacting your subspecialty.
Opportunities to connect with colleagues around the globe, and much more!
Get Connected
Whether it's online or in person, SBI facilitates opportunities for collaboration and connection among its members:
Share advice, access ideas, and learn from peers in SBI's members-only community, SBI Connect.
Develop your leadership skills and contribute to SBI's mission and values by serving on an SBI committee.
Follow us on social media and engage in meaningful conversations with the breast imaging and overall radiology community.
Learn More
To read more about the value of SBI membership, please download the membership flyer. For general inquiries and questions, please contact the SBI at (517) 893-5185 or info@sbi-online.org.