As we kick off Breast Cancer Awareness Month (BCAM), it is imperative that we use this time, when so many are tuned in and focused on breast health, to amplify the importance of mammography screening care.
The Society for Breast Imaging (SBI) originally launched the #EndtheConfusion initiative to provide clarity and understanding into when and how often a woman should seek breast cancer screening. Extensive knowledge, research and evidence tells us early detection of breast cancer can enable doctors to take action to keep the disease from progressing. Early detection expands the treatment options available to a patient. Furthermore, it can help avoid difficult treatments if cancer is detected early. With today's imaging technologies, we're finding abnormalities early and giving women better health and peace of mind. Quite simply, screening saves lives.
By getting a yearly mammogram after age 40, women increase their odds of surviving breast cancer and reduce the need for some kinds of treatment like chemotherapy, radiation, and mastectomy.
SBI offers resources throughout the year related to breast cancer awareness and early detection tools.
Table of Contents
Create Content:
It's easy to create your own content to partner with SBI on social media during the month of October.
Create short video responses to the following prompts:
What do breast radiologists do?

Dispel 3 myths about breast health.

What do breast radiologists want patients to know?

Why is breast cancer awareness month important to you?

What are 3 things everyone should know about breast cancer awareness month?

How do breast radiologists advocate for patients?

What local initiatives are you taking part in for BCAM?
Upload recorded video responses here.
Engage with SBI All Month Long
Like, comment and share and be sure to tag SBI and use the hashtag #EndtheConfusion when posting!
Videos:
JBI Content:
Artificial Intelligence as Supporting Reader in Breast Screening: A Novel Workflow to Preserve Quality and Reduce Workload
Implementing the National Dense Breast Reporting Standard, Expanding Supplemental Screening Using Current Guidelines, and the Proposed Find It Early Act
Breast Cancer Screening in Women With Dense Breasts: Current Status and Future Directions for Appropriate Risk Stratification and Imaging Utilization
A Step-by-Step Guide to Writing a Scientific Review Article
Breast Imaging Fellowship Consortium: Developing a Comprehensive Virtual Educational Platform for Breast Imaging Fellows
Management of Mammographic Architectural Distortion Based on Contrast-enhanced MRI and US Correlation
Past, Present, and Future of Machine Learning and Artificial Intelligence for Breast Cancer Screening
Patterns of Screening Mammography and Breast MRI During the COVID-19 Pandemic: A Retrospective, Chart-Review Study
The Dense Breast Clinic: Initial Experience of a Patient-Centered Breast Imaging Clinic
Multicenter, Multivendor Validation of an FDA-approved Algorithm for Mammography Triage
Effect of an Educational Intervention on Women's Health Care Provider Knowledge Gaps About Breast Cancer Risk Model Use and High-risk Screening Recommendations
Assessment, Complications, and Surveillance of Breast Implants: Making Sense of 2022 FDA Breast Implant Guidance
Ongoing Impact of COVID-19 on Breast Radiologists' Wellness
Demographic and Socioeconomic Risk Factors for Granulomatous Mastitis in the United States: A Case-Control Study
Decreasing the Interval Wait Times for Screening Mammogram Results Using the "Reflex Testing" Algorithm
Online Education:
In this case-based webinar, Dr. Greenwood and Dr. Ataya share cases of missed breast cancers, review common imaging presentations of missed breast cancers, and discuss technical causes and cognitive and unconscious biases that contribute to missed breast cancers. This webinar will help attendees identify and recognize common factors contributing to missed breast cancers and provide strategies to implement in practice to mitigate missed breast cancers. A live question and answer session at the conclusion of the webinar will address attendees' questions.
In this webinar, Dr. Michael Taylor-Cho shares cases of missed breast cancers. He discusses the various factors that contributed to the missed breast cancer with particular emphasis on the various perceptual and cognitive errors that breast imaging radiologists commonly fall victim to. This webinar will enable attendees to identify and recognize the factors that contribute to missed breast cancers and come up with strategies to prevent similar errors in the future. Additionally, the webinar provides tools that can be employed in the attendees' own institutional peer review learning process.
Although uncommon, male breast cancer has a rising incidence worldwide and poses an important health problem for individual patients. Clinical detection leads to delay in diagnosis, as reflected in a persistent survival gap between men and women with breast cancer despite advances in modern therapy. While breast imaging recommendations for men with breast symptoms are well established, the role of imaging in screening in men is less well understood. In this webinar, we describe diagnostic challenges of male breast cancer, review appropriate management of common clinical scenarios, discuss the natural history of male breast cancer, consider evidence for targeted screening, and summarize current imaging guidelines.
Radiologists should be familiar with normal and abnormal findings encountered in imaging of the reconstructed breast. Radiologists should also know how to recognize common and uncommon complications seen after breast reconstruction, in order to minimize unnecessary biopsy and improving follow-up. This webinar describes the techniques of implant and autologous flap reconstruction, recognizes common and uncommon benign findings, and explains complications associated with breast reconstruction.
As one of the core values of the Society of Breast Imaging, patient-centered care calls for breast imaging radiologists to collaborate with patients in shared decision-making processes to optimize patient care and satisfaction. Effective communication is critical to this process. In addition to expert interpretive and technical skills, breast imaging radiologists must develop proficiency in communicating with patients who face the challenges of receiving a breast biopsy recommendations, undergoing biopsies and receiving breast cancer diagnoses. In these settings, patient-centered communications require an understanding of patient needs, goals and preferences; they also require skillful engagement in collaborative, informative and supportive discussions.
While breast imaging has been the radiology leader in a patient-centered approach to care, there is a paucity of formal training in patient communications, leaving gaps for those already in practice and a need for specific strategies for current trainees. In the first of a two-part series, moderator Dr. Mary Scott Soo, along with Dr. Stamatia Destounis, will describe ways to improve awareness of patient experiences and perspectives in breast imaging, to set the stage for effective patient centered communications. This webinar will also enable attendees to recognize strategies for effective communications during biopsy recommendations and procedures, and provide tools for preparing patients for potential breast cancer diagnoses in these settings.
Graphics: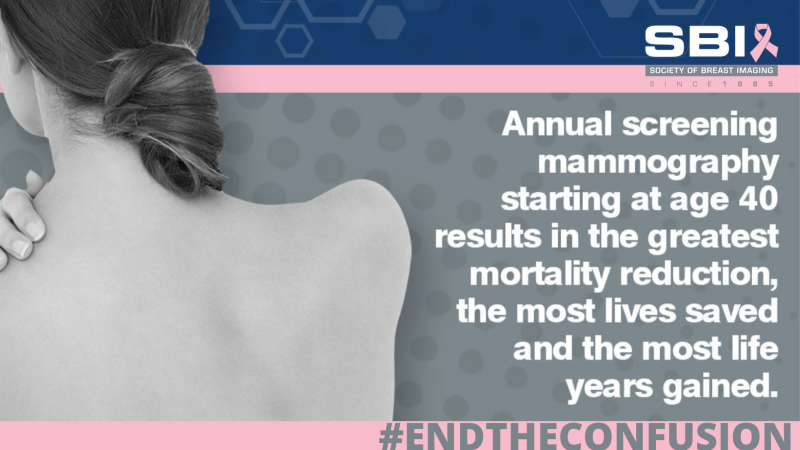 Patient Stories:
"After I shaved my head, the first thing my then- 5-year-old told me was that I was still beautiful." — Cara Sapida, SBI News Fall 2021
"I feel confident that the life that I am living and the love and support that I am able to provide for my family and friends simply because I am here is a triumph in itself." — Huria Patwardhan, SBI News Winter 2022
"I am lucky. When found early, breast cancer is a minor bump in the road." — Wendie Berg, MD, PhD, FACR, FSBI; SBI News Spring 2022
"I also learned to trust my body and how important early detection truly is. Had I not been persistent in following up my initial benign excisional biopsy, my cancer might still be growing in my breast today." — Liza Miller and Dr. Matthew Miller, SBI News 2021 Issue #2
"Every woman should have access to screening that is appropriate for her." — Wendie Berg, MD, PhD, FACR, FSBI; SBI News Spring 2022
"Just because someone has no family history of breast cancer does not translate into breast cancer immunity. A patient may have a gene mutation that puts them at elevated risk for developing breast cancer and not even know it." — Liza Miller and Dr. Matthew Miller, SBI News 2021 Issue #2
"A therapist once told me that something many of her breast cancer patients had in common was putting themselves last. I'm working on making sure my physical and mental health are both a priority." — Cara Sapida, SBI News Fall 2021
"Giving priority to my mental health has improved almost all of my interpersonal relationships and my relationship with my physical body. I am 100% more present and patient with my children and husband. I am a more empathetic and thoughtful friend and family member. I listen better both to others and to the signals that my own body is giving me." — Huria Patwardhan, SBI News Winter 2022